2
3
Affordable Dental Wisdom Teeth
Before & After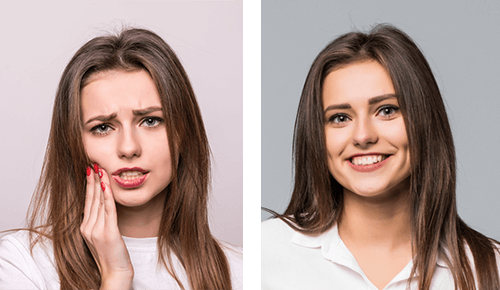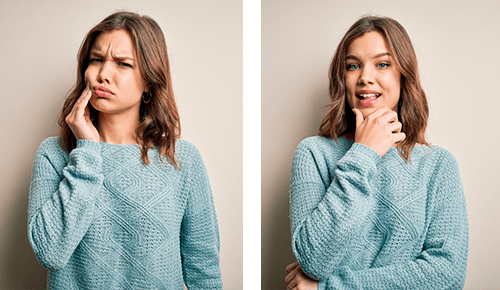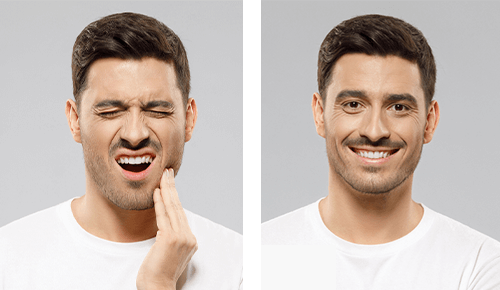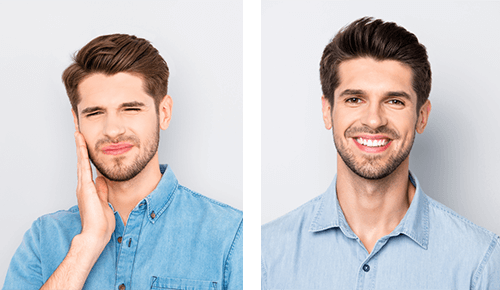 4
WISDOM TEETH - PREVENTION
Wisdom Teeth treatment is one of the Affordable Dental specialties. It's a lot easier, and cheaper to keep your mouth healthy, clean, bright and beautiful than visit the dentist with a problem a minute too late. Visit the Affordable Dental Clinic for a quick check-up. You will not be sorry.
WE SEE ALL TYPES OF PATIENTS
Wisdom Teeth come to the surface last. Most people have four Wisdom Teeth. Two on the top and two on the bottom. "We have seen patients with only one surfaced Wisdom Tooth on the top," Says our doctor, who has been working on Wisdom teeth for over 20 years.
WISDOM TEETH MAY BE THE SOURCE OF YOUR PAIN
Wisdom Teeth can be a source of many mouth problems and can cause you great pain. The location of Wisdom Teeth makes them hard to clean. They are open to bacteria and can rot easily, and cause bad cases of gum disease. Problems with wisdom teeth can be hard to find. It is even common for you to feel great while your Wisdom Teeth are rotting.
WISDOM TEETH - THE SILENT DISASTER
Often times you may not feel the problems with your Wisdom Teeth. "By the time patients arrive at our Hialeah Gardens office they are often times no in pain," said doctor. It's usually best to remove Wisdom Teeth before they get infected and start causing pain.
5
AFFORDABLE DENTAL NEAR ME
Powered by dental innovation, backed by happy smiling patients.
6
Wisdom Teeth - Symptoms
Bad Breath

Raw Gums

Swollen Gums

Red Gums

Bleeding Gums

Unpleasant Taste

Swelling Around

Difficulty Opening
7
You may have an infection in your Wisdom Teeth even before the problem spreads and reaches your gums. Gum infections have become more and more common. They can cause horrible pain and discomfort. They spread fast and affect other teeth. If treated on time it can be stopped quickly and prevent future teeth problems.
Visit the Affordable Dental Family Dentistry. Dentistry is our passion. Dentistry is what we studied for years, what we studied in our extra time and what we practice for over 20 years.
8
CAUSES
Because Wisdom Teeth come in last, your other teeth may develop in some of their space. As a result, your Wisdom Teeth may :
Grow at an incline and grow into another tooth

Lack of space may push them to the back of your mouth

A Wisdom Tooth can grow pressing down in your jawbone

They can grow, but stay trapped inside your jawbone
9
COMPLICATIONS
When a Wisdom Tooth pushes against other teeth it can cause several problems :
The pressure on the other teeth can result in a crooked tooth and you will need braces to straighten the teeth.

Wisdom Teeth that are impacted can be a real risk. Decay can develop and affect other teeth. Food and bacteria get trapped between the gum and a partially surfaced tooth. Wisdom Teeth are hard to clean.

The difficulty of cleaning affects the Wisdom Teeth. That increases the risk of infection and painful gums. This condition is called Pericoronitis.
10
PREVENTION
Keep Wisdom Teeth trouble from happening to you. "A regular six-month dental checkup and cleaning is very important," says the top dentist at Affordable Dental in Hialeah, Hialeah Gardens, Miami Lakes, Florida. Keep your teeth healthy to prevent bad breath, bad teeth, and a bad smile.
12
INVISALIGN CLEAR BRACES
Invisalign clear braces are comfortable, easy to use, fast-acting, and invisible. Our new Invisalign technique transforms the standard braces experience and creates a fresh and attractive looking smile. Fast!
13
RESPECT
We treat everyone in our diverse community equally. Our patients, their families, friends, and associates are treated with dignity and respect.
INTEGRITY
We keep the highest standards and professionalism. We believe personal responsibility and customer service builds the trust our patients want in a great dental clinic.
COMPASSION
We treat our patients, their families, and co-workers with understanding and empathy.
HEALING
Affordable Dental Care is committed to maintaining your oral, emotional, and spiritual well-being.
14